Shipping only on Tuesday (ordered before 15.00 hours)
1. Have your order delivered to your home.
All deliveries of Edelsmid Bart Rensen are carried out by Post.NL. They deliver your order during the day at the address indicated by you.
Upon receipt of a registered document, the TPG employee will ask you for a signature for receipt. If you are not at home when the order is offered to you, the Post.NL employee will leave a notice in the bus with the address of the post office where you can pick up your order the next working day.
Pay attention to any damage when receiving the package. By signing for receipt of the package, you declare that the package has been received in good order. If the package is damaged you can refuse the package.



2. Delivery to your work address or to someone else.
Are you often not present during the day or is the item a gift for someone? Then enter the desired delivery address during the ordering process. For example, you can enter your work address or the address of a family member, friend or acquaintance (within the Netherlands).
3. Pick up.
By appointment, collection in Tiel is possible for purchases above € 100, -
(please pay in cash, pin is not possible).
(All terms mentioned on the web shop are indicative.We make every effort to fulfill our promises, but we depend on third parties for the shipment of our products.) No rights can be derived from these terms.
Returns.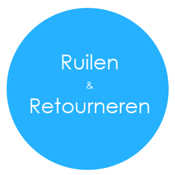 If you want to return something, send it to:
Bart Rensen
Vurenlaan 82
4006 XT Tiel
The Netherlands
The costs for returning from your home to the webshop are for your own account.
After the order has been received in good order, the amount will be refunded to your account.


You have the right to cancel your order up to 14 days after receipt without giving any reason. After cancellation, you have another 14 days to return your product.
You will then be credited with the full order amount without shipping costs.

If you use your right of withdrawal, the product with all accessories and - if reasonably possible - in the original condition and packaging will be returned to the entrepreneur. To make use of this right, you can contact us via [email protected]. We will then refund the order amount due within 14 days after registration of your return, provided that the product has already been returned in good order.
- Jewelry with personal engraving can not be returned.
- For silver rings that are custom made on the right size, € 35, - will be deducted upon return.
- For golden rings that are custom made on the right size, € 75, - will be deducted upon return.
- Jewelry produced on order and costum made, can not be returned, in consultation a solution is sought.